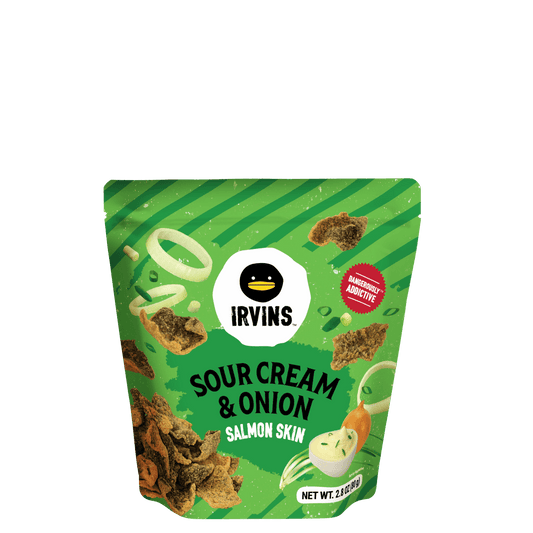 IRVINS Sour Cream and Onion Salmon Skin (80g)
Sale price

S$7.80

Regular price

S$7.80

Unit price

per
You cannot add more than 40 items to the cart.
You cannot add more than 2 of this item to the cart.
Members enjoy free delivery for orders above $20
Elevate your snacking with IRVINS Sour Cream and Onion Salmon Skin. These exquisite chips are a fusion of savory and creamy, combining the delicate crunch of salmon skin with the classic tang of sour cream and onion. Each bite offers a harmonious balance of flavors, creating a taste sensation that's simply irresistible.
Whether you're indulging on your own or sharing with friends, IRVINS Sour Cream and Onion Salmon Skin redefines gourmet snacking with every delectable chip. Discover the art of flavor fusion and savor the unique blend in each mouthwatering bite.
Ingredients
INGREDIENTS
SEASONED SALMON SKIN [SALMON SKIN, PALM OIL, FLOUR MIX (WHEAT FLOUR, RICE FLOUR, TAPIOCA STARCH, SODIUM BICARBONATE, CALCIUM DIHYDROGEN PHOSPHATE, AMYLASE), SALT, SUGAR, WHITE PEPPER], SOUR CREAM AND ONION SEASONING [SUGAR, NON-DAIRY CREAMER (GLUCOSE SYRUP, FULLY HYDROGENATED PALM OIL, SODIUM CASEINATE, DIPOTASSIUM HYDROGEN PHOSPHATE, PENTASODIUM TRIPHOSPHATE, CALCIUM CARBONATE, MONO- AND DIGLYCERIDES OF FATTY ACIDS, DIACETYLTARTARIC AND FATTY ACID ESTERS OF GLYCEROL, ONION POWDER AND DRIED SPRING ONION, SALT, ARTIFICIAL FLAVOR, MALTODEXTRIN, SILICON DIOXIDE, CITRIC ACID, YEAST EXTRACT, PAPRIKA EXTRACT], PALM OIL
ALLERGENS
MILK, WHEAT, FISH (SALMON) PRODUCED IN A FACTORY WHERE EGG, SOYBEAN, TREE NUTS, CRUSTACEAN, AND SESAME PRODUCTS ARE HANDLED.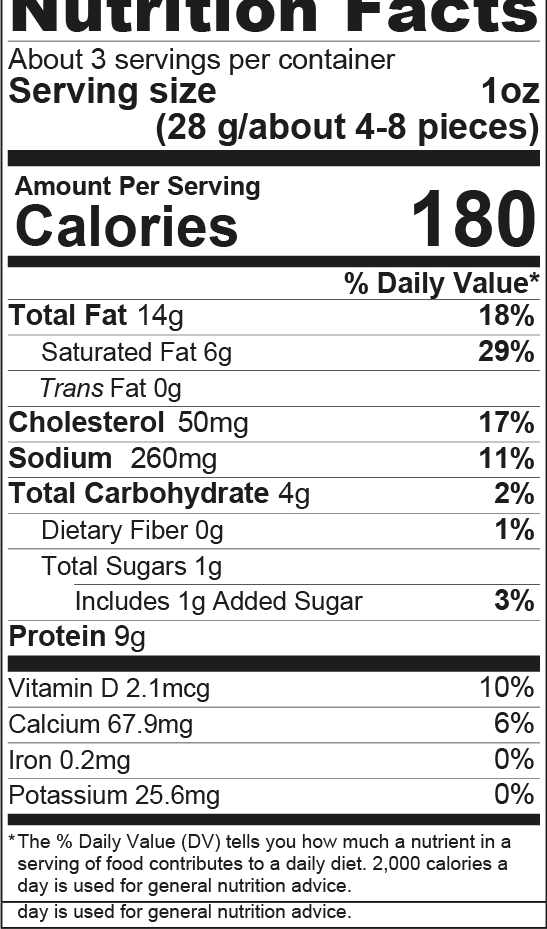 What

people

say

about

this

product